Encapsulating Prespray
Our Encapsulating Prespray is an excellent pretreatment and spot remover for carpet cleaning. It can be used alone as an encapsulation solution, or as a pretreatment when using Dry Compound. Encapsulants work by dissolving the soil and suspending it within a crystalline film on the carpet fiber. This film then dries and is removed by subsequent vacuuming. The result is an instantly clean carpet with no residue to cause resoiling. It can also be used full strength for tough spots and no worries.
The dilution rate depends on the function you need. For pre spraying applications, 5-10 ounces per gallon of water works great. For really tough traffic lanes, a half and half mix works great. If you have some tough spots that don't respond to these, apply full strength in a hand held sprayer for great results.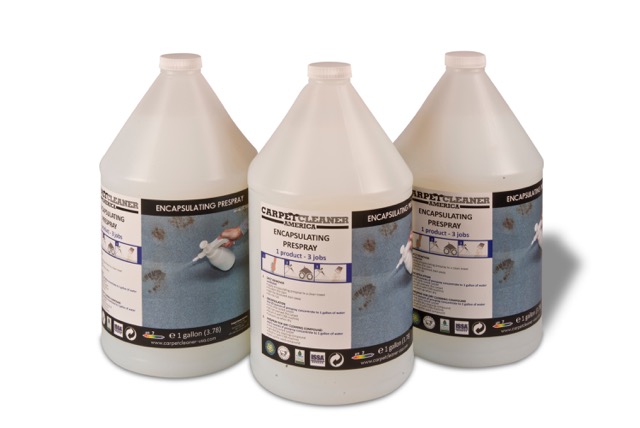 One Product - Three Jobs
SPOT REMOVER
Apply the prespray undiluted to a clean tissue.
Moisten the stain with the tissue.
Dab the dissolved stain away with a clean part of the towel. Do NOT rub!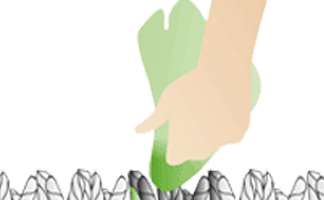 ENCAPSULATION
Mix 10 ounces of prespray concentrate to 1 gallon of water. Spray onto carpet surface, and brush area with CRB machine.
As the carpet is brushed, the loosened soil will be coated & encapsulated.
The encapsulated soil particles are held in suspension within the crystalized cleaning agent until they are recovered – leaving a clean, fresh, new-looking carpet.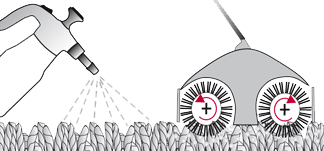 PRESPRAY FOR DRY CLEANING COMPOUND
Mix 5 ounces of prespray concentrate to 1 gallon of water.
Spray onto the soiled areas and stains. Use enough product to moisten the carpet, but do not overwet it.
Spread the Dry Compound onto the carpet surface and brush in with CRB machine. The prespray loosens the soils which are then absorbed in the Dry Compound.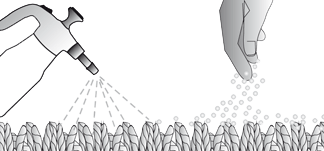 Looking for Support?
We have a full library of resources for your convenience including Parts Manuals, Electrical Drawings, and Application Videos.